Adult Education Program: Danny Adlerman Performs!
April 22, 2022, 8:00 pm

-

9:30 pm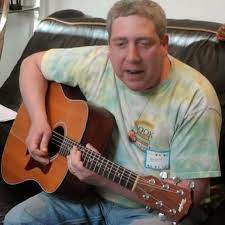 (Adult Education Event)
Danny Adlerman Performs Your Requests!
Please join us for this Friday night event during which Danny Adlerman will perform your requests and accompany himself on the guitar. It promises to be great fun!!
Danny will entertain us with your music requests as well as sing some of his own compositions. To place a request, choose up to 10 songs from the list below. You can submit them to Danny via email or through his Facebook page.
Long time Peretznik Danny Adlerman is an author, poet, and musician. His accolades include Best Musician in His House, and, a la Cher, Charo, and Bono, he has ascended into the category of single name artists by a meaningful portion of his audience (that is to say, his children refer to him as "Dad"). He is a fair bowler and not a bad little cook. And for years, we have enjoyed Danny's singing at the Rosh Hashanah and Yom Kippur services.
Please Register Here in advance. After registering, you will receive a confirmation email containing information about joining. This event is open to the public.
REQUEST LIST
Woodstock (Crosby Still Nash & Young)
Teach Your Children (CSNY)
Turn Turn Turn (Pete Seeger/The Byrds)
Mr. Tambourine Man (The Byrds version)
Where Have all the Flowers Gone (Pete Seeger)
Walking in Memphis (Marc Cohn)
What's Going On (Marvin Gaye)
Tuesday Afternoon (Moody Blues)
Shambala (Three Dog Night)
(What's So Funny 'Bout) Peace Love and Understanding (Nick Lowe)
Mother Nature's Son (The Beatles)
Stuck in the Middle With You (Stealer's Wheel)
She's Got a Way (The Smithereens)
Five O'Clock World (The Vogues)Harvest Moon (Neil Young)
Hey Jealousy (The Gin Blossoms)
Ziggy Stardust (David Bowie)
Groovin' (The Rascals)
Calling All Angels (Train)
Me and Julio (Paul Simon)
Get Together (The Youngbloods)
Thunder Road (Bruce Springsteen)
Wonderful Tonight (Eric Clapton)
Sugar Mountain (Neil Young)
Comes a Tome (Neil Young)
Mrs. Robinson (Paul Simon)
Big Yellow Taxi (Joni Mitchell)
Behind the Wall of Sleep (The Smithereens)
A Whiter Shade of Pale (Procul Harum)
Squeezebox (The Who)
Kids are Alright (The Who)
Three Little Birds (Bob Marley)
Casey Jones (Grateful Dead)
Ruby Tuesday (Rolling Stones)
Brown Eyed Girl (Van Morrison)
Check out www.dannyandkim.com for updated appearances and free activities guide!