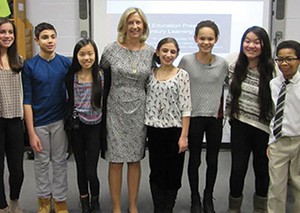 Graduation Projects are independent research projects that our seventh-grade students present to all students and school families on the day of their graduation.  We're proud of the interesting topics selected by our former graduates, and the fine work performed in completing their projects.  Many Graduation Projects include an audio-visual component.  We invite all our graduates to submit their research papers or presentations to us for inclusion on this page.
Jonathan Bird - Jewish Influence in the Comic Book Industry
Milana Borodkin - Jewish Mysticism
Brian Colquist - The Jewish Rock n' Roll "Challah" Fame Honors Geddy Lee
James Haber - Jewish Migration in the United States
Jason Lefkowitz - Traditions: From Atheist to Orthodox
Noah Shapiro - Louis Brandeis
Avi Weiss - Antisemitism in America
Avery Matthew Gordon
David M. Lefkowitz
Skyler Mack - Gene Wilder and Jewish Humor
Robin Pestka - The Munich Olympics
Alex Silberstein - Jewish Football Players in the NFL
Annaliese Simons - Nazi Propaganda and Deception during WWII
Maya Zeidman - Jews in the American Revolution
Myla Wailoo - Janet Jagen: Jewish President of Guyana
Eric Bernheimer – Judaism in Albert Einstein's Life
Julia DiBenedetto – Jewish Rappers
Leah Mack – Jewish Pirates
Noah Hartwick – Synagogue Architecture
Rachel Schlow – Jewish Food
Rachel Wyetzner – Firsts in the History of Jewish Women
Diana Misrahi - Jewish Life through a Lens
Ezra Seidel - Samuel Bak
Jem Seidel - Jews and Jazz
Maxx Adlerman - To Be or Not to Be: A Comparison of Two Renditions
Ethan Cantor - Are Jews like the Luddites?
Adam Cantor - Rabbi Joachim Prinz
Elliott Wailoo - Albert Einstein and Zionism: His Ideas of the Middle East
Maya Jodidio - Kibbutzim
Michael Meyer - Jewish Food
Madeline Schmidt - Women of Valor
Devan Sirota - Sandy Koufax
Alyssa Sugarman - Jewish Fashion
Zoe A. Sifnakis - Jewish Artists of the Twentieth Century
Alyssa M. O'Neill - The Amazing Anne Frank
Alec P. Cantor - Jewish Camping and its History
Rachel Cantor
Danielle Laurie Degutz
Karley F. Sirota
Jessica Weiss
Daniel Bish — The Sunflower
Shanna Cole — Jewish Comedians
Julia Dougherty — The Origins of Yiddish
Rebecca George — The Art of Art Spiegelman
Zachary Howard — Anti-Semitic Comedy and the Jews Who Write It
Sam Lobel — Jewish Themes in Science Fiction
Nicholas Meyer — Creationism and the Big Bang - A Jewish Interpretation
Hannah Pawlak — Lovely Lippizaner
Sara Pawlak — Chicken Soup for the Jewish Soul
Ilea Santiago — Angels
Jaclyn Welsh — A Brief History of Jewish Music
Courtney Yurecko — Betty Friedan: One Jewish Woman Who Changed the World
Jonathan Yurecko — Discrimination & Jewish American Baseball
Simon

Liebling

— Atheism and Judaism: Baruch

Atah

Who?
Maxwell William Phillips — A Fire From the Flame of Hate
Matthew A. Rubenstein — Hello Dalai: When the Jews Met the Buddhists
David Farber Stern — Einstein and Politics
Michael Philip

Sugarman

— Murder,

Inc

: the History of Jewish Organized Crime in America

Chava

Sharone

Vietze

— Jerusalem Through the Eyes of Jewish Women Poets
Amanda Cohen — All About the Aleph Bet
Elsie D. — The Jewish Defense League

Shaquede

Frank — The Seven Circles of Bat Mitzvah
Camille Hutt — The Life of

Klezmer

Music
Lindsay Kessler — The Three Stooges
Morgan Reiss — Bar/Bat Mitzvahs
Melissa

Roderman

— The Remarkable Life of Marc Chagall
Hannah

Bish

— Hannah

Senesh

Mark Goldsmith —

Chiune

Sugihara: The Savior of Thousands of Jews During the Holocaust
Jenny Mintz — The History of Modern Hebrew
Max Mintz — What is the Good of Jewish Humor?
Adam Benaroya — The Jewish Roots in George Gershwin's Music
Jesse

Diener

-Bennett —

Klezmer

: The Musical Melting Pot
Marc Howard — German-Jewish Liturgical Music vs. Classical: Two Worlds of Music Meet
Michelle Hutt — The Jewish Influence on Broadway
Daniel Kent — Leonard Bernstein: Jewish Themes in His Music
Rachel

Roderman

— Emma, Golda and Gloria: A Profile of Three Notable Jewish Women
Scott Sarvetnick — An Historical Overview of the Holocaust
Jake Weissman — The Biblical Story of Jacob
Anna

Weltman

— The Party of the First Part: The Marx Brothers As Secular Jewish Humorists
Ana

Benaroya

— Art and Artists of the Holocaust
Aaron Buchman — The Israeli Conflict in Lebanon
Michael Feldman — The Warsaw Ghetto
Judith Meer — I. L. Peretz, the Man and His Work
Eve Segal — Albert Einstein's Jewish Identity
Emily

Bisen-Hersh

— An Analysis of Jewish Humor
David Buchman — Ben Shahn and His Art
Karen

Hakken

— The Jewish-Titanic Connection
Jeremy

Halper

— A History of the Israeli Defense Forces
Rebecca Ullman — The B'nai

Mitzvot

- Their Evolution and Modern Day Relevance
Ellen Beth Goldman – The Effect of the Holocaust on My Family
Andrea S. – Jewish Foods
Julia

Scheinbeim

– Jewish Weddings
David A. Sontag – Jewish Immigration to South America and Jewish Life in Argentina
Nora H. Weinberg – Holocaust Poetry
Eve E. Weissman – Reflections on Women in the Bible
Jennie

Bouwman

Maris Callahan
Rachel Davison
Jessica

Leventhal
Joel Bernanke — The Life of the Second Temple

Makella

A.

Craelius

— God: A Worldwide Dilemma
Adam J. Feldman — I.L. Peretz
Cynthia Katz — Kibbutzim
Daniel W.

Mintz

—

Klezmer

: A Link to my Heritage
Laura-Jean Mintz — Israeli Dance and Culture
Lee

Scheinbeim

— The Origins of Hebrew
Laura Sontag — Jewish Folklore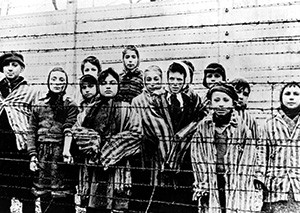 The Holocaust is one of the historical periods studied by our Level 4 (7th Grade) students.  Following is a selection of poems written by our students on the subject.
The Survivors Strong Fighting for life
The Survivors beat hate beat prejudice
The Survivors overcame an army overcame discrimination
The Survivors educating the world making sure it never happens again
The Survivors there should have been more there should have been millions
The Survivors - who fought back.
By Elsie Dedecker
Trapped in the shadows --
A voice calls to me --
We have been taken away
It's very lonely -
Very silent -
Very calm -
Still
Trapped here -
In the shadows
When the voice calls to me
I call back
Having a sense of relief
That the silence has disappeared
Then I see a hand
It reaches for me --
I think my thoughts, prayers, and dreams
All came true on that very day -
I was saved --
No longer worried
About being trapped -
Down there in the shadows
By Amanda Cohen
they tortured the Jews
they tried to wipe us out
they almost did so
By Matt Rubenstein
The Holocaust was
A Horrible nightmare, a
curse lasting what seemed
like forever.
By Melissa Roderman
In the ghetto
My troubles lie…
Walls of ice
All around.
Houses of death
On Earth's ground.
What should I do
Before I die?
Showers of gas
That burn your skin.
There is no way
The Jews can win.
They've killed my mother,
and my father.
Shot guns, pistols,
Tools of war.
In these camps,
There's no out door.
My sisters and brother,
it will always bother.
By David Stern and Max Phillips
6 million is a number
Just a number
But to Jews it is more than
a number.
6 million is the number of
brothers, sisters, mothers, fathers,
sons and daughters killed with
hatred and ignorance of
human beings.
6 million can stand as many things.
But for the Jews it stands
as the innocent brothers and sisters who perished in the
Holocaust.
6 million.
Remember the 6 million not
as a number, a quantity, an
amount but as
6 million Jews.
6 million.
By Shaquede Frank
Hatred,
The one word that tears us
Apart.
The one word that kills.
The one word that starts
Wars.
The one word that killed me.
By Chava Vietze
Death
around every corner.
Darkness
in every building.
Dread
inside and out.
The stench of all things evil
Everywhere
By Simon Liebling
A flower wilts in the hot July sun
A young child sits and watches the
yellow flower die
The child has seen many losses
The child has no one
The child has nothing
Her last possession was this yellow
flower
Her identity is no more than a number
As the flower dies, the child, small and
frail, wilts
with her flower
Her nameless face closes its eyes and
lays gently
beside the flower, never to awaken again
By Lindsay Kessler
Everything was peaceful
Everything was calm
Until they came.
And made the quiet scream
And the peaceful hurt
And the good were killed
So town to town
Became awaken
To the evil
Floating around them
Not to stop
For a long time
But when they left
All was ruined
All was destroyed
All was dead and gone.
By Camille Hutt
There once was a man, a Jew.
Nazis treated him like poo.
Checked and burned,
Many stomachs churned.
Now the Holocaust is true.
By Michael Sugarman
Running, Running
Are they there?
Are they catching up
Chasing dying
My mother, my father
My brother suffocating
Help them! Help me!
Emaciated people walking, dying
Help me!
I'm safe, they're gone
I'm dead
By Morgan Reiss