Sunday School Class & Tu B'Shevat Celebration
February 2, 9:30 am

-

12:30 pm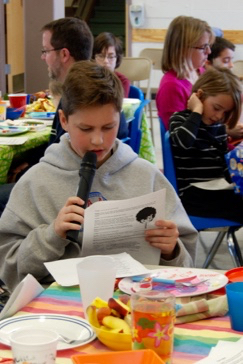 (Family Event, 11:00 am)
This Sunday we will celebrate the first holiday of 2020 with our annual Sustainable Tu B'Shevat Seder. This is a family event and all are encouraged to attend!
Tu B'Shevat is known as The New Year for Trees. What a wonderful way to honor the true meaning of this holiday by minimizing the amount we throw away when it is over. Environmental issues and ways to make a difference for the planet have never been more important, and this holiday provides us with a unique opportunity to set a tone for our school, our students, and community as a whole.
The idea here is to once again create a sustainable Seder, one in which we really make an effort to reduce our waste, pay attention to how much we use, and the ways we can begin to make greater changes for the benefit of the earth. With a little effort, our Tu B'Shevat holiday will be one to remember!
Please plan to bring one reusable plate, cup, and utensil per person. Cloth napkins, metal serving spoons, bowls for each table, cloth table covers, and small compost buckets are most welcome, as are any other ideas for reducing our waste. If you would like to bring any of the above in addition to your own place setting, please email the Sustainable Seder coordinator, Stephanie Field.
Let's go for minimum waste in 2020!