Adult Education Program: Film and Discussion
November 17, 7:30 pm

-

9:00 pm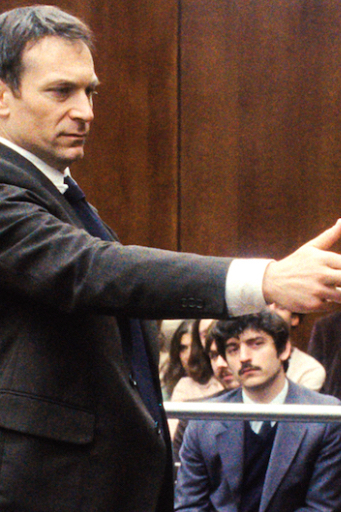 (Adult Education Event)
The Goldman Case: Film and Online Discussion
The Peretz Program Planning Committee has selected The Goldman Case as the primary film for our annual Rutgers Bildner Center Jewish Film Festival film discussion. This film is available to screen virtually from Nov. 6 to Nov. 12. The film was an Official Selection of this year's Cannes Film Festival.
This electrifying courtroom drama offers a fascinating portrait of Pierre Goldman and his highly politicized 1976 appeals trial that gripped and divided France. Director Cédric Kahn was inspired to make the movie after reading the defendant's autobiography, Obscure Memories of a Polish Jew Born in France, which Goldman penned in prison. Political activist turned criminal, Goldman was tried and convicted of multiple crimes, including two murders; the police prejudice and antisemitism he endured were a microcosm of the political, ideological, and racial tensions of the time.
Regal Cinema and Rutgers Business School in-theater screenings of a variety of other Jewish festival films will be held from October 26th through November 5th; these in-theater screenings will differ from the virtual program. While The Goldman Case is the primary film chosen to discuss, we encourage people to view other films at the festival to broaden the discussion at our program on November 17th.
Please join us to continue the long-standing annual I.L. Peretz Adult Community tradition of viewing and discussing Jewish film festival films. (With any luck, next year we'll be back at the diner!)
Please contact Judy Stern or Claudia Farber for the Zoom meeting link. Open to the public.